Charles Toto
New Jersey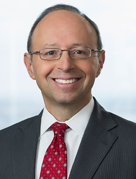 Hawkins Delafield & Wood LLP
One Gateway Center
Newark, NJ 07102
United States
Tel: 973.642.8841

Email:

ctoto@hawkins.com
Web:

www.hawkins.com
Chuck's career is focused on serving as bond counsel, underwriters' counsel or borrowers' counsel in connection with hospital, nursing home, retirement community, college, university and independent school financings throughout the country.
Chuck's clients include conduit bond issuers, most national, regional and specialty investment banking firms and not-for-profit corporations of all sizes. He has assisted a wide variety of borrowers in navigating the bond financing process.  His clients range in size and scope from the nation's leading healthcare systems and higher education institutions to community social service providers and local cultural organizations.
In addition to bond transactions, Chuck has represented health care institutions and other not-for-profit corporations in post-issuance tax and securities law compliance, derivative transactions, direct lending, asset securitizations, asset sales, mergers and consolidations, credit facilities and other capital markets transactions. He has also guided clients in preparing grant applications and in reviewing proposed legislation.
Chuck has served as a panel chair at the National Association of Bond Lawyers – Tax and Securities Law Institute and a panelist at the National Association of Bond Lawyers – Bond Attorneys Workshop and as a speaker at the National Association of Health and Educational Facilities Finance Authorities annual conferences. He is also a frequent speaker at the New Jersey Health Care Financial Managers Association and at client sponsored conferences and board retreats.  In 2015, Chuck was elected a Fellow in the American College of Bond Counsel.  Chuck is a member of the Firm's Management Committee.
Education
Boston College, B.A.
Fordham University School of Law, J.D.
Bar Admissions
New Jersey
New York
Maine
Hawkins is recognized as a national leader in finance transactions in the health care industry.   The firm has participated as bond counsel or underwriters' counsel in more than 1,470 issues for health care facilities in nearly every state, with a principal amount exceeding $109 billion.
Our experienced health care finance team has unique depth and perspective on the complicated legal issues that arise in connection with securing financing for health care enterprises.   Hawkins has become a "firm of choice" for transactions that implement significant strategic initiatives in the health care sector – such as system consolidations, academic medical center "spin offs" and master indenture modernization – which are, increasingly, part of the new health care paradigm as the industry continues to expand, mature and respond to regulatory changes.
The firm's clients in the health care industry include: Academic medical centers, Banks, Community hospitals, Critical-access hospitals, Governmental health care issuers, Investment banks, Long-term care hospitals, Multi-hospital systems, Municipal hospitals, Rural hospitals, and Specialty hospitals.
Hawkins offers governmental agencies, non-profit corporations and financial institutions exceptional legal service and sophisticated counsel in finance and infrastructure transactions.  Founded in 1854 and with 90 lawyers in ten offices across the country, the firm is consistently recognized by clients and peers for sustained excellence.  Our professionals practice with the distinctive collegiality and mutual respect intrinsic to traditional law firm partnerships.
Ranked first as underwriters' counsel and second as bond counsel nationally over a 40-year span, our firm has closed $1 trillion in public finance transactions.  State and local governments regularly turn to Hawkins, on the strength of our unique specialty practice and outstanding record of innovation and accomplishment, to structure new financing programs, resolve complex tax and securities disclosure questions, and advise on infrastructure procurement, project finance and public private partnership matters.
Hawkins attorneys recognize and value the public purpose at the core of our clients' projects and programs, be it providing education or health care services, renewable energy, pure water, environmental protection, transportation, economic development, cultural opportunities or affordable housing.  We craft sound and creative legal solutions to major, complex public works and capital project contract and financing challenges that serve the public interest and reflect a deep understanding of the legal and market terrain.