Joshua M. Weaver
Texas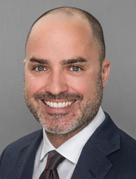 Weaver Johnston & Nelson, PLLC
10440 N. Central Expressway
Suite 1400
Dallas, TX 75231
Tel: (214) 705-3516

Email:

jweaver@weaverjohnston.com
Web:

www.weaverjohnston.com
Josh is Board Certified in Health Law by the Texas Board of Legal Specialization, one of approximately only 80 attorneys in Texas with this certification. Josh particularly loves advising his clients on their overall operational strategy and has extensive experience in providing counsel to health care providers on complex operational, transactional, and compliance issues. He has particular experience in advising hospitals, ambulatory surgery centers, free-standing emergency departments, pharmacies, independent diagnostic testing facilities, physicians, dentists, and other health care providers on their day-to-day operations, business strategy, business transactions, and compliance initiatives.
Josh also advises clients with respect to licensing and reimbursement issues and payor audits. Josh's transactional experience includes drafting and negotiating a variety of health care contracts and documents, including professional and physician services agreements, physician recruitment agreements, joint-venture operating agreements, private placement memoranda, physician employment agreements, asset purchase agreements, stock or equity purchase agreements, management agreements, company operating agreements, business associate agreements, and equipment and space leases. Josh also has significant business litigation experience and has taught health care law at UNT Dallas College of Law.
SMU Dedman School of Law, J.D., 2004, cum laude

SMU International Law Review, Articles Editor

Southern Methodist University, Cox School of Business, B.B.A., cum laude, 2001
Board Certified in Health Law by the Texas Board of Legal Specialization
Selected for inclusion in Texas Super Lawyers by Thomson Reuters, 2010-2012; 2014-2022
D Magazine, "Best Lawyers in Dallas," 2016, 2018-2020, 2021
"Reducing Barriers to Value-Based Care – Changes to Stark Law and the Anti-Kickback Statute," Dallas Medical Journal (April 2021)
"Do you know the rules for delegation of prescriptive authority?", Dallas Medical Journal (May 2018)
"Opening a pain management clinic? Here's how to avoid regulatory discomfort," Dallas Medical Journal (July 2018)
"Should you expand into telemedicine?", Dallas Medical Journal (May 2018)
"It's Your Responsibility to Provide Interpretation Services," Dallas Medical Journal (May 2017)
"Legal Issues Surrounding Physician Employment Contracts," Texas Orthopaedic Association Newsletter (November 2013)
"Physician Assistants," Texas Orthopedic Association Newsletter (February 2014)
At Weaver Johnston & Nelson, we take pride in assisting physicians, hospitals, surgery centers and other medical providers in navigating the complex regulatory environment in which they operate. Our lawyers know the healthcare industry is an ever-changing and expanding area that requires medical providers to be constantly up-to-date on the latest changes and reforms that occur. That is why endeavor to give our clients the timeliest, most current advice we can. With a diverse background of experience between our attorneys, our firm has the expertise to effectively serve our clients.
We routinely assist our clients in matters ranging from the transactional to the litigious. We believe that, because the healthcare industry is so quick to evolve, it is essential to provide personalized, exceptional service to medical providers.
At Weaver Johnston & Nelson, we focus on providing legal services to healthcare providers on regulatory compliance matters, operational matters and transactional matters. We believe healthcare providers should expect effective and efficient legal counsel in navigating the complex and ever-changing regulatory environment in which they operate.
Our extensive background includes advising hospitals, surgery centers, free standing emergency medical care facilities, physicians, dentists, laboratories, imaging centers and other individual and institutional providers throughout Texas.
Whether it is a routine operational question or a critical compliance issue, we stand ready to help you achieve your business objectives and to provide practical solutions.
Since its inception, the firm has quadrupled in size. Now, Weaver Johnston & Nelson has one of the largest groups of healthcare attorneys dedicated to advising healthcare providers in the State of Texas.
As the firm continues to grow, so do the ways in which we can assist our diverse client base. Our expanding practice areas including corporate, transactional and securities law, as well as hemp and cannabis law.