Kelly Knivila
Oregon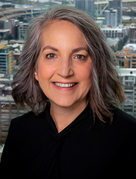 Stoel Rives LLP
760 SW Ninth Avenue
Suite 3000
Portland, OR 97205
Tel: 503.294.9532

Email:

kelly.knivila@stoel.com
Web:

www.stoel.com
Kelly is a healthcare regulatory lawyer who specializes in helping clients solve problems with federal and state regulatory agencies. She has deep experience in the Medicaid program having spent over two decades representing Medicaid Managed Care Organizations, providers and state Medicaid agencies on a wide array of regulatory issues. Kelly also regularly counsels clients on a variety of other healthcare regulatory requirements including Medicare audits and billing requirements, physician self-referral laws (the federal Stark Law and similar state laws), the anti-kickback statute, compliance programs, self-disclosures and internal investigations. Kelly co-leads the health care section of Stoel Rives' Health Care & Education Industry Group.
Prior to joining Stoel Rives, Kelly was associated with the Washington, D.C. law firm of Covington & Burling, where her practice focused on representing state governments in disputes related to health and welfare reimbursement matters. Kelly also spent nine years as an Assistant Attorney General at the Oregon Department of Justice, handling complex regulatory matters, particularly in the areas of Medicaid reimbursement, healthcare provider licensing and administrative law.
Education
Georgetown University Law Center, J.D., 1989, magna cum laude ; Senior Articles Editor, Georgetown Law Journal; Dean's List – all years
Western Oregon State College, B.A., 1986 ; Senior Woman of the Year; Federation of Teachers' Scholarship Award; Dean's List – all years
The health care delivery system is in the midst of a transformation. While the end state is unknown, it is almost certain to involve greater responsibility and accountability for improving health outcomes for populations and individuals, as well as increased reliance on data and technology and new ways of engaging and tailoring treatment to patients and their families.
As a result, health care providers, payers and vendors are experimenting with innovative arrangements as they seek to create the health care system of the future. One of the biggest challenges facing the health care industry is aligning financial incentives, information systems and legal structures that facilitate integration of care across the delivery system to promote best medical practices and reduce costs.
Stoel Rives is a leading U.S. corporate and litigation law firm providing high quality services to sophisticated business clients at every stage of their evolution. With nearly 400 attorneys in seven states and Washington, D.C.,
Stoel Rives is a nationally recognized leader in the energy and natural resources industries. From deals and disputes to compliance and counseling, clients turn to Stoel Rives for their most complex business challenges.