Mark R. Fitzgerald
District of Columbia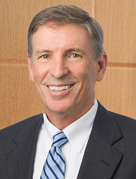 Powers Pyles Sutter & Verville PC
1501 M Street, NW
Seventh Floor
Washington, DC 20005
Tel: 202-872-6771

Email:

Mark.Fitzgerald@PowersLaw.com
Web:

www.powerslaw.com
Mark is a principal at Powers Pyles Sutter & Verville with 30 years of healthcare law experience.
Mark represents integrated healthcare systems, particularly systems that include academic medical centers, on a broad array of healthcare regulatory and compliance matters, including compliance with the Stark and anti-kickback laws, Medicare billing and reimbursement, and self-disclosure matters. He also has extensive experience structuring healthcare transactions to minimize compliance risk and avoid reimbursement pitfalls.
Mark has been recognized for his healthcare law expertise in The Best Lawyers in America; "Band One" of Chambers and Partners Healthcare Lawyers for D.C and Washingtonian Magazine top lawyers.
Mark's recent work experience includes:
Serving as special counsel for compliance and reimbursement issues in support of multi-billion dollar academic health systems in the Northeast and Mid-Atlantic States
Providing advice on enterprise risk management strategies to Board and C-suite executives
Representing healthcare providers in connection with Medicare fraud investigations, HHS OIG audits, and Stark and kickback self-disclosure matters
Representing a health system in the negotiation of a long term, full spectrum revenue cycle management services agreement
Representing components of an academic medical center in the development of a cutting edge, multi-million dollar cancer treatment center
Representing a multi-hospital alliance on service and supply contracting arrangements, and
Counsel to multi-specialty group practice on healthcare and business law matters
Powers Pyles Sutter & Verville was established in 1983 as a healthcare law firm by a core group of attorneys drawn from government and the private practice of law. These dedicated lawyers shared a common mission – to deliver superior legal services exclusively to the healthcare industry and its professions.
The firm quickly became and continues to be one of one of the most experienced and respected healthcare law firm practices in the country. Today the firm continues the innovative thinking and proactive counsel that made it among the most successful firms by addressing the particular needs, concerns, and issues faced by healthcare providers in this volatile and highly regulated environment.
Powers advises and represents healthcare entities of virtually every size, type and description, and provides a comprehensive range of legal services to assist these clients with their unique needs. The firm is well known for its Medicare and Medicaid reimbursement, fraud and abuse, drug-pricing, transactional, litigation and disability practices, as well as its expertise in HIPAA compliance and medical privacy issues.
Powers healthcare attorneys are true advocates who work to influence legislative and administrative policy, vigorously represent their clients' interests before the courts and agencies, and apply their experience to the benefit of clients in matters concerning the complex interplay of regulations and their effect on healthcare providers and practitioners.
Powers Pyles Sutter & Verville PC is a Washington, DC-based law firm that began with a strong focus on healthcare law and healthcare policy and has gradually expanded capabilities to include a national education practice, public policy and government relations services, representation of non-profit organizations, and representation of clients seeking expertise in other areas of administrative law. In 2014, the firm further expanded its capabilities to include an Indian tribal governments practice group, which provides a full range of legal and government relations services to tribal governments and organizations.
The firm prides itself on being one of the few in the United States that has chosen to devote its entire legal practice to the sophisticated and complex legal issues facing participants in the health, education, and certain complementary sectors of the economy. It also prides itself in making a conscious and affirmative attempt to render an unusually personal and collegial form of service that is particularly tailored to the different needs and desires of individual clients, and to provide the highest quality of service in as efficient a manner as possible.
Members of Powers Pyles Sutter & Verville PC are nationally known and have written and lectured extensively on issues within their particular areas of expertise. Their backgrounds include service with the Health Care Financing Administration; in the US Department of Health and Human Services; the former US Department of Health, Education, and Welfare; the Executive Office of the President; the Congress and the General Accounting Office; presidential commissions; the US Attorneys'​ offices; and in the private practice of law.
"Mark Fitzgerald is a seasoned healthcare attorney with extensive expertise in Medicare reimbursement, regulatory compliance and transactional matters. He is a go-to adviser for a broad roster of providers."