Michael P. Levinson
Florida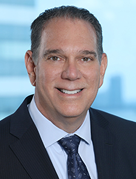 Berger Singerman LLP
1450 Brickell Avenue
Suite 1900
Miami, FL 33131
Tel: 305-982-4078

Email:

mlevinson@bergersingerman.com
Web:

www.bergersingerman.com
Michael Levinson is a partner based in Berger Singerman's Miami office and a nationally recognized healthcare attorney who counsels clients in all aspects of federal and state healthcare issues. He also is a licensed physician. Michael's advice regularly is sought by a broad range of life sciences businesses, including health systems, institutional and individual health care providers, outpatient and ambulatory treatment centers, device manufacturers and suppliers, clinical laboratories, home health agencies and substance abuse treatment facilities.
In addition, Michael routinely advises investment funds and institutional lenders on matters related their life sciences portfolios. Highly respected for his transactional, operational and regulatory experience, Michael's healthcare work includes matters such as joint ventures, mergers and acquisitions, third-party reimbursement, licensing and permitting, operational compliance, antikickback issues, physician self-referral, false claims, corporate practice of medicine and dentistry, and corporate governance.  He also is well versed in cutting edge business models and routinely works with clients on innovative, goal-driven projects.
Michael's experience extends beyond healthcare to a wide array of commercial industries as well. His experience as a licensed physician and former healthcare executive give him an in-depth perspective and understanding of the industry.
Michael is admitted to practice law in Florida, Colorado and the District of Columbia. He is board certified in Health Law by the Florida Bar and has been highly ranked by Chambers USA, Florida Super Lawyers, Martindale-Hubbell (AV Preeminent), Who's Who in American Law, Legal 500, and Nightingale's Healthcare News.
Healthcare is the biggest industry in the United States and continues to evolve in our ever-changing political, economic and technological climates. How healthcare entities and professionals adapt can make the difference in the day-to-day and long-term business outlook.
To address the myriad of issues facing the healthcare industry, Berger Singerman's multidisciplinary Healthcare Industry Practice Group incorporates experienced members from each of our four practice teams: Business, Finance and Tax; Government and Regulatory; Business Reorganization; and Dispute Resolution.
The Group is well-versed in the following areas:
Acquisitions, dissolutions and internal disputes of entities/partnerships including tax implications
Ancillary services contracts
Complex corporate transactions
Corporate structure, ownership and governance
Business licensing
Professional licensing/disciplinary actions
Healthcare licensure and certification
Healthcare finance and investments
Clinical research agreements
FDA regulations governing clinical research
HIPAA compliance, regulatory compliance and cybersecurity
Employment contracts and litigation
Real Estate matters, including land use, zoning, and private-public partnerships
Intellectual property due diligence, licensing and litigation
Insurance due diligence, claims process and insurance recoveries
Restructuring
Internal investigations
Healthcare fraud including Medicare, Stark law and Anti-Kickback Statute and False Claims Act
White collar defense and director and officer  representation
Qui tam/whistleblower lawsuits
Dispute resolution
The Group's experiences includes representation of healthcare providers, including hospitals, healthcare clinics, physicians, nursing homes, ambulatory surgical centers, hospices, home health agencies, medical staffing companies, rehabilitation facilities, DME providers and pharmaceutical/biotechnology companies. We also represent long term care living facilities, health insurance providers, managed care companies, and entities seeking advice under Florida's medical marijuana legislation.
With offices in Miami, Fort Lauderdale, Tallahassee, and West Palm Beach, Berger Singerman serves a diverse client base with a Florida focus and international scope. We practice throughout the U.S. and frequently handle matters in Europe, Asia and South America.
We limit our practice to areas in which our peers and credible third-party evaluators recognize us among the very best in Florida. We pride ourselves on our ability to deliver creative, effective and passionate client service to resolve any problem and to take advantage of any opportunity.
Serving the needs of successful individuals in advancing their business interests, as well as in building and preserving their wealth, forms the strong foundation for our practice. We are proud of the depth of expertise of our legal teams, who primarily focus on individuals and families. We work closely with financial advisors, law firms, accountants and trust companies to assist our clients in achieving their financial and philanthropic goals and endeavor to provide legal competitive advantages for their businesses.
Referral matters form a substantial part of our Firm's practice. When other law firms have conflicts, need in-depth knowledge of Florida law, or require special expertise, they honor us by trusting us with their clients. We put our reputation on the line through our referrals, including two global networks of leading law firms.
"Michael Levinson covers a broad range of regulatory and transactional matters for a range of healthcare industry participants including health systems, ambulatory treatment centers and medical device companies."