Stephen Brower
Arizona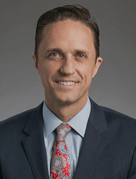 Brentwood Law Group, PLLC
2520 E. University Drive
Suite 103
Tempe, Arizona 85281
Tel: 602-497-2435

Email:

sbrower@brentwoodlg.com
Web:

www.brentwoodlg.com
Stephen Brower is the managing partner for Arizona-based Brentwood Law Group PLLC located in Tempe and Mesa.
For 15 years, Brower has represented hospitals and healthcare providers with acquisitions, regulatory compliance, reimbursement models and disputes, and litigation.  Brower has also counselled providers and investors in ground-up development, construction, and operation of hospitals, ambulatory surgery centers, outpatient treatment centers, skilled nursing facilities, and medical practices.
Brower is the only practicing Arizona lawyer to establish a for-profit de novo hospital system in the last 10 years.  Brower obtained zoning variances and special use permits for hospital construction.  Brower engaged in construction contract negotiation and dispute resolution.  Brower negotiated and drafted policies, procedures, rules, bylaws, licenses, and leases.
Along with his work for larger organizations, Brower consults with individual healthcare providers and small and medium-sized medical practices wishing to sell or reorganize.  Brower also consults with these clients about Stark Law, Anti-Kickback Statute (AKS), HIPAA, and other state and federal law/regulations.
Brower also represents non-healthcare corporate clients with real estate acquisitions and contract disputes.  As a litigator and veteran trial lawyer, Brower provides unique insight in contract negotiations and settlements.
Education:
University of California, Los Angeles – School of Law, J.D., 2006
Arizona State University, B.S., Economics, 2003
Representative Experience
Consultation with healthcare providers regarding regulations, affiliations, and contracts.
Consultation regarding the development, construction, and operation of healthcare facilities.
Brentwood Law Group PLLC is a full-service law firm based in Arizona serving healthcare clients with regulatory compliance, third-party payor reimbursements and disputes, chargebacks, safe harbor regulations, Stark Law, federal and state anti-kickback law, public accommodation healthcare law, stock sales and asset acquisitions, construction, leases, state licensing, and CMS accreditation.
The firm also serves healthcare and non-healthcare related clients with general business transactions, business litigation, real estate litigation, construction law, injunctions, creditor representation, and appeals.  The firm embraces the movement to client-centered lawyering focused on engaged listening to best reveal solutions that meet client objectives.