Tom Curtis
California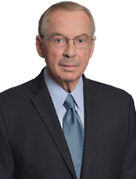 Nossaman LLP
18101 Von Karman Avenue
Suite 1800
Irvine, CA 92612
Tel: 949.477.7627

Email:

tcurtis@nossaman.com
Web:

www.nossaman.com
Tom Curtis is Co-Chair of Nossaman's Healthcare Group.  For more than 40 years, he has represented clients in the healthcare sector on a wide range of issues including, medical staff peer review proceedings, licensing proceedings, writ proceedings, State and Federal Court civil litigation, and related appellate proceedings.  Tom represents hospitals, health systems, health plans, medical staffs, medical groups, ambulatory surgery centers, and other healthcare providers on regulatory and compliance issues and the development of long range plans.
Tom is a Life Fellow of the American Bar Foundation.  This recognition is limited to one third of one percent of lawyers licensed to practice in each jurisdiction.  Members are nominated by Fellows in their jurisdiction and elected by the Board of the American Bar Foundation.  Tom has repeatedly been recognized as a Super Lawyer in healthcare law.  He has served on the teaching faculty for The Joint Commission and as Editor-In-Chief of the California Physician's Legal Handbook.
He was individually recognized for Healthcare in California by Chambers USA in 2021, and he is an AV Preeminent® Peer Review Rated by Martindale-Hubbell attorney. He is also a frequent lecturer and author on current health law issues.
Education:
Georgetown University Law Center, J.D., 1974
Santa Clara University, B.S., 1971, Ryland Prize, 1968-1971; Foch Medal, 1968-1971
Health care is an industry facing more regulatory and public scrutiny than perhaps any other. Clients rely on our counsel to help them stay abreast of this rapidly changing regulatory, transactional, legislative and litigation landscape.
We have longevity. Our preeminence in health law began with the landmark efforts of the Firm's senior healthcare lawyers, including our former partner and State Assemblyman John T. Knox. Jack co-authored the Knox-Keene Health Care Service Plan Act of 1975 and the Moscone-Knox Professional Corporation Act. The regulatory aspects of healthcare are woven into the fabric of our Firm. We are unique in that we have a proven record of accomplishment in representing healthcare clients before all three branches of government.
We counsel hospitals and other delivery systems, managed care organizations, research organizations, ambulatory surgery centers, medical staffs, discount plans and senior living providers as well as practice entities and individual professionals. They turn to us to manage important legal challenges stemming from new regulations and actions by federal and state authorities, to litigation, peer review proceedings, organizational growth, IP licensing, and formation of organizations, partnerships and other practice structures. We also provide advice and counsel with respect to health information technologies and on matters that require U.S. Food and Drug Administration (FDA) oversight.
Clients value our diverse perspectives. Prior to joining our team, members of our group served as counsel in the Office of Inspector General for the U.S. Department of Health & Human Services, as an industry contracts officer at UC San Francisco, as a medical staff coordinator and as in-house counsel. We see all sides of an issue.
Nossaman LLP is a national law firm with attorneys and policy advisors located in seven offices throughout the United States. We focus on distinct areas of law and policy, as well as in specific industries, ranging from transportation, healthcare and financial services to real estate development, water and employment. Our clients include multi-national corporations, public agencies, private businesses, trade associations, non-profits, and individuals.
Nossaman was founded in 1942 in Los Angeles by Walter L. Nossaman. As a result of several mergers and acquisitions, the name has changed throughout the years. In 2008, Nossaman merged with Washington DC law firm O'Connor & Hannan and shortened its name from Nossaman Guthner Knox & Elliott to Nossaman LLP.
"Tom Curtis is a national expert and close, trusted adviser on a broad spectrum of healthcare matters. He has excellent knowledge of medical staffing bylaws and areas of discipline."