Vincenzo Carannante
Connecticut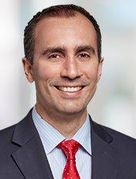 Shipman & Goodwin LLP
One Constitution Plaza
Hartford, CT 06103-1919
United States
Tel: 860.251.5096

Email:

vcarannante@goodwin.com
Web:

www.shipmangoodwin.com
Vincenzo Carannante is a partner in the firm's Health Law Practice Group, where he provides end-to-end transactional, regulatory and dispute-resolution counsel to local, regional and national health law providers and related entities. In addition to his significant experience in traditional business and compliance matters – including health care mergers, acquisitions, financing, licensure and accreditation, medical staff operations, and responses to federal and state agency investigations – Vincenzo frequently speaks, writes and advises clients on rapidly emerging issues and developing opportunities in areas such as telemedicine, behavioral health, and the corporate practice of medicine.
As outside legal counsel, Vincenzo represents clients from across the health care industry, including hospitals and health systems, pharmacies, telemedicine providers, ambulatory surgery centers (ASCs), federally qualified health centers (FQHCs), behavioral health providers, substance-use disorder providers, clinical laboratories, residential care homes, home health agencies, physician practices and individual practitioners. He also advises private equity companies, insurance companies and other investors on the acquisition of – or investments in – for-profit and not-for-profit service providers.
Our health care lawyers are passionate about the industry and have decades of experience advising for-profit and non-profit providers, insurers, biotechnology companies and other clients facing complex legal, regulatory and business issues. Well known for our industry knowledge, experience, quality, integrity and advocacy, our team is tightly knit, deeply experienced, and capable of deploying the right resources to assist you in a highly efficient and cost-effective manner.
The health care practice at Shipman has been ranked in Band 1 by Chambers USA America's Leading Lawyers for Business 2020, the nation's preeminent guide to law firms and individual lawyers.
For more than 75 years, we have provided informed, proactive representation to hospitals, academic medical centers, hospital systems, integrated health networks, community-based providers, behavioral health agencies, substance-use disorder providers, federally qualified health centers, home health agencies, skilled nursing facilities, life-science companies, retail pharmacies and insurers.
Shipman's value lies in our commitment — to our clients, to the profession and to the community.
We have one goal: to help our clients achieve their goals. How we accomplish it is simple: we devote our considerable experience and depth of knowledge to understand each client's unique needs, business and industry, and then we develop solutions to meet those needs.
Clients turn to us when they need a trusted advisor. With our invaluable awareness of each client's challenges, we can counsel them at every step — to keep their operations running smoothly, help them navigate complex business transactions, position them for future growth, or resolve business disputes. The success of our clients is of primary importance to us and our attorneys invest meaningful time getting to know the client's business and are skilled in the practice areas and industry sectors critical to that success.
With more than 140 lawyers in offices throughout Connecticut and New York, we serve the needs of local, regional, national and international clients. Our clients include public and private companies, institutions, government entities, non-profit organizations and individuals.